Medical Director, Antonios P. Gasparis, MD:
Renowned vascular surgeon and vein specialist Dr. Antonios Gasparis is director of the Center for Vein Care and Bellavie MedSpa at Stony Brook Medicine. He is a member of the faculty of the Stony Brook University School of Medicine. He is board certified in vascular surgery, and has over 17 years of experience in the field. After earning his medical degree at Upstate University Hospital in Syracuse, Dr. Gasparis underwent residency training in general surgery at Upstate and in vascular surgery at Stony Brook University. He has a strong interest and experience in aesthetic vein care.
---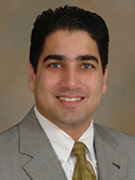 Medical Director, Sami U. Khan, MD:
Renowned plastic surgeon Dr. Sami Khan is director of cosmetic surgery at Stony Brook Medicine, and a member of the faculty of the Stony Brook University School of Medicine. He is board certified in plastic surgery and surgery, and has more than 22 years of experience in the field. After earning his medical degree at the Medical College of Georgia, Dr. Khan underwent residency training in general surgery at the Medical Center of Delaware and in plastic surgery at the Mayo Clinic. His fellowship training in aesthetic surgery and breast reconstruction was completed with Charlotte Plastic Surgery, North Carolina.
---
Associate Director, Janet Trabosh, PA-C, MPH:
As a nationally certified and state-licensed physician assistant, Janet Trabosh has over 19 years in practice, including conducting physical exams, ordering and interpreting tests, developing treatment plans, prescribing medicine and assisting with surgery as part of the plastic and reconstructive surgery team at Stony Brook, where she has worked since 2003. She also is certified as a cosmetic tattoo specialist and has undergone intensive training with leaders in the field of 3D areola re-pigmentation for breast reconstruction patients, scar camouflage and permanent makeup with tattoo. In addition, she is certified in medical grade chemical peels, laser treatments, Botox, dermal fillers and other injectables.
---
Licensed Cosmetologist, Brittany Licciardello
: Brittany received her training at a BOCES on Long Island and became a licensed Cosmetologist in 2010. Her background is in the art of hair, makeup, fashion and waxing, with much of her training being received at reputable New York City schools such as TIGI Academy, Goldwell Academy and Wella Studios. Branching out of the salon due to a family member being diagnosed with breast cancer, she found her passion for microblading and went to the Eye Design University in NYC for training and certification. Brittany now works closely with patients who are undergoing chemotherapy, or are suffering from alopecia, scarirng and hair loss in the brow, to reconstruct their brow shape. She is inspired by learning new trends and continuing to grow as a professional and is very excited to be a part of the Stony Brook team and to work closely with each and every patient to meet their beauty needs!
---
Receptionist/Administrative Assistant, Angelina Litterello
: Angelina graduated from Long Island University with a Bachelor of Science in Nutrition. This background allows her to assist clients in implementing a personalized skin care regimen with a strong focus on their nutrition to benefit not only their skin, but their overall health and wellness. Angelina is ready to greet clients upon entering the medspa, assist with products, and answers all concerns or questions so clients feel at ease prior to their appointment.